Sunday, September 10, 2017
Rain date: September 17, 2017
Fair hours: 9 a.m. – 5 p.m.
ANNUAL FAIR
Each September, the Babylon Beautification Society holds a Fair around Argyle Lake in Babylon Village. Hundreds of craft vendors sell hand-made items to crowds that have numbered in the thousands. Known as one of Long Island's best fairs, our Annual Country Fair offers food and entertainment around the Gazebo area and features a children's section with small rides and activities.
Notifications regarding inclement weather on Fair day can be viewed on our home page and Facebook page.
Download the application
You now have the option to apply and pay online but if you would like to download and mail-in the form, click here.
Print and mail back Vendor application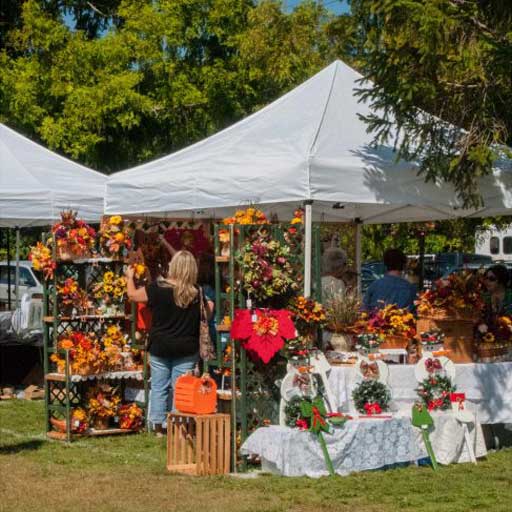 Craft Vendor Application Information
All vendors must sell items that are hand-made. Please fill out and send the below application.
An application must be sent to the Fair Committee and is subject to approval.
Send payment to the P.O. Box noted below.
Babylon Beautification Society | P.O. Box 76 | Babylon, New York 11702
If you have any questions about the fair, please send an email to:
info@babylonbeautification.org
You may download and print this form (click here) and fill out then mail back. OR fill out the digital form and submit payment online.
Print and complete pages 1-4 of the application. Enclose your full payment via a money order or bank check made payable to "Babylon Beautification Society". We will not process your application without a payment.
Mail to:
Babylon Beautification Society
Attention: Country Fair Committee
P.O. Box 76
Babylon, New York 11702
Do NOT send your application via Priority, Certified, signature required, Registered U.S. mail or in an oversized envelope. It will be refused
The cost for a space is $175.00 via money order or bank check/cashier's check/official check only.
All spaces are 10' x 10'. These dimensions will easily accommodate your display needs.
Spaces will be assigned and vendor documents will be emailed along with the notification of acceptance of your vendor application.
All items sold by vendors must be HAND-MADE.
The following are prohibited: organizations that are social, religious and political in nature. Service organizations and food vendors are also prohibited.
Non-profit organizations and any type of fund raising are strictly prohibited.
Store owners are prohibited.
The criterion upon which we accept applications and assign spaces includes the date of receipt of the application, type of craft and previous participation of a vendor.
All decisions are final and payment is not refundable upon our acceptance of an application and the assignment of spaces. If we are not able to accept your application, your payment will be returned to you. Applications will automatically be denied without proper payment and signature on the application.
In the event of rain on both dates the Fair will be cancelled and application fees will be returned LESS a $50.00 fee for filing costs and expenses.
Since vendor documents and space assignments will have been received in advance, there will be NO REGISTRATION the day of the fair. Officials will be present to assist you in finding assigned spaces and addressing any questions or concerns that may arise.
Location requests: requests will be considered but no guarantees of a specific location area will be granted. Please keep in mind that there is little or no shade, and that much of the ground is not level.
Set-up: The Beautification Society provides only the site. All display materials, tables, chairs, etc. are the responsibility of the vendor. All tables must be covered to the ground with appropriate tablecloths. (Paper tablecloths are acceptable). It is recommended that you set up by 8:00 AM the day of the fair. There is no unloading or parking on the grass area. The Fair ends at 5pm. Note: people usually arrive early.
Neither The Babylon Beautification Society nor the Village of Babylon shall be held liable for any damages, loss, theft or injury resulting from participation of the applicant and/or his/her agents. The applicant is solely liable for his/her person and property, as well as that of his/her agents, before, during, and after this event. Applicant's
Since its inception, the Babylon Country Fair has become a tradition for thousands of Long Islanders. Organized by the Babylon Beautification Society, a non-profit organization, the Fair is held annually on the Sunday after Labor Day in and around Argyle Park. The Fair offers a broad variety of outstanding arts and crafts, a special section devoted to children's games and attractions and a festival of food booths. Our mission is to support projects and initiatives that contribute to the beauty of Babylon Village. We work closely with local government and community leaders as well as hundreds of volunteers to complete this mission. All of our proceeds are used to fund beautification projects in Babylon Village.