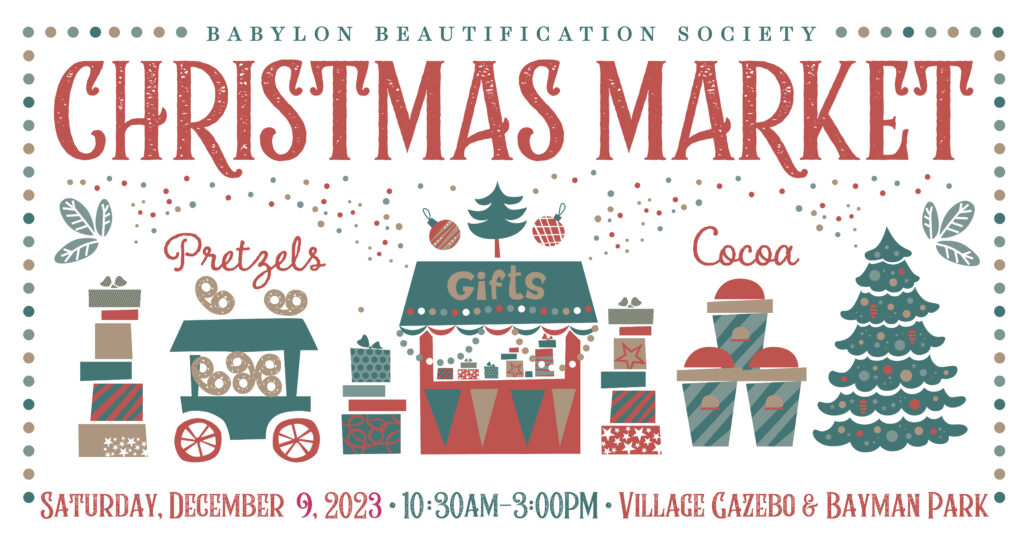 We are no longer accepting vendor applications.
The Babylon Beautification Society is pleased to host a Christmas Market held from 10:30 a.m. to 3:00 p.m. on Saturday, December 9, 2023, at the Village Gazebo and Bayman Park.  The rain date for the event is Sunday, December 10.
The market will feature over 80 vendors selling fine gifts just in time for the holidays.  There will also be snacks and hot cocoa available for sale and plenty of Christmas spirit.  Vendor space is very limited.
Vendor Application
We are accepting applications from select vendors selling gift items.  Please read the information below carefully and access the online application at the bottom of the page.  Space is very limited.
Food & Beverage Vendors
We are only allowing select food and beverage vendors by invitation. Please contact us at info@babylonbbs.org for more information. Do not apply if you are a food vendor without first contacting us.
Application, Payment & Review Process
You must submit the online application, which can be accessed below.  A non-refundable application fee of $10 is required with the application.  All applications will be thoroughly reviewed, and we reserve the right to accept or refuse any vendor.
Space is very limited, and you may not be accepted even if you participated in the past.  If you are accepted, we will notify you by email and send you a link to pay the balance by credit card.   Once we receive your payment, you will be officially accepted as a vendor.  We expect to notify all vendors of the status of their applications in November 2023.
IMPORTANT: your application will not be accepted if we don't have enough information to review.  We require photos of your items to be included in the application.  If the items in the pictures don't match the description of your items, your application will not be accepted.
To ensure you get all emails from us, white list our email addresses and domains and add them to your safe-sender list (info@babylonbeautification.org and info@babylonbbs.org, paypal.com, zapier.com).
2023 vendor fee:  $125.00
A non-refundable application fee of $10.00 is due when you apply.  If your application is approved, the balance of $115.00 will be due.  This amount is for one vendor space and includes a listing in the online directory.
Vendor Information
All spaces are 10' x 10'.  We provide only the space, which is on the pavement.  You are required to bring tents, tables, chairs, display materials, etc.  Double spaces are not an option.
The following are not permitted to participate:
Organizations that are social, religious, and political

Service organizations and service firms

Non-profit organizations
Note: fundraising of any kind is strictly prohibited.
Location Requests
We accept and assign vendor spaces based on our discretion.
Set-up: you may begin by 8:00 a.m., and you must be fully set up by 10:00 a.m.  You may only set up on the morning of the market, not the day before the event.  There is no unloading or parking on grass areas. The market ends at 3:00 p.m.
Online Vendor Directory
We will publish an online vendor directory that will include select information regarding your items sold, your social media sites, and select contact information you provide to us.
Conduct & Behavior
We expect all vendors to adhere to all guidelines, be professional and treat all other vendors and all visitors in a kind and courteous manner.  We reserve the right to remove any vendor or person(s) from the premises for any reason, at any time.
Other Notices
Neither the Babylon Beautification Society nor the Village of Babylon shall be held liable for any damages, loss, theft or injury resulting from participation of the applicant and/or his/her agents. The applicant is solely liable for his/her person and property, as well as that of his/her agents, before, during, and after the event.
The Babylon Beautification Society reserves the right to limit certain types of participants and merchandise and to enforce all regulations pertaining to applicants and/or their representatives.
We reserve the right to refuse any application for any reason.
Inclement Weather Information
If there is inclement weather on Saturday, December 9, the market will be held on Sunday, December 10.
If there is inclement weather, we will issue a public notification on the morning of the market at 5:00 a.m. (or earlier).  Notifications will be sent via email and posted on our website and Facebook page.
If the market is canceled on December 10, we will refund vendors the application fee, less $35.
Cancelation Policy
Vendors are not eligible for a refund once the application is approved and payment is made.  There are no exceptions.
Acceptance of our Terms
By applying and submitting your application and payment you are agreeing to all terms and conditions.  Please read them all very carefully as we won't make exceptions for any reason.
The Christmas Market is located at the Village Gazebo and Bayman Park.
244 W Main St., Babylon, New York 11702