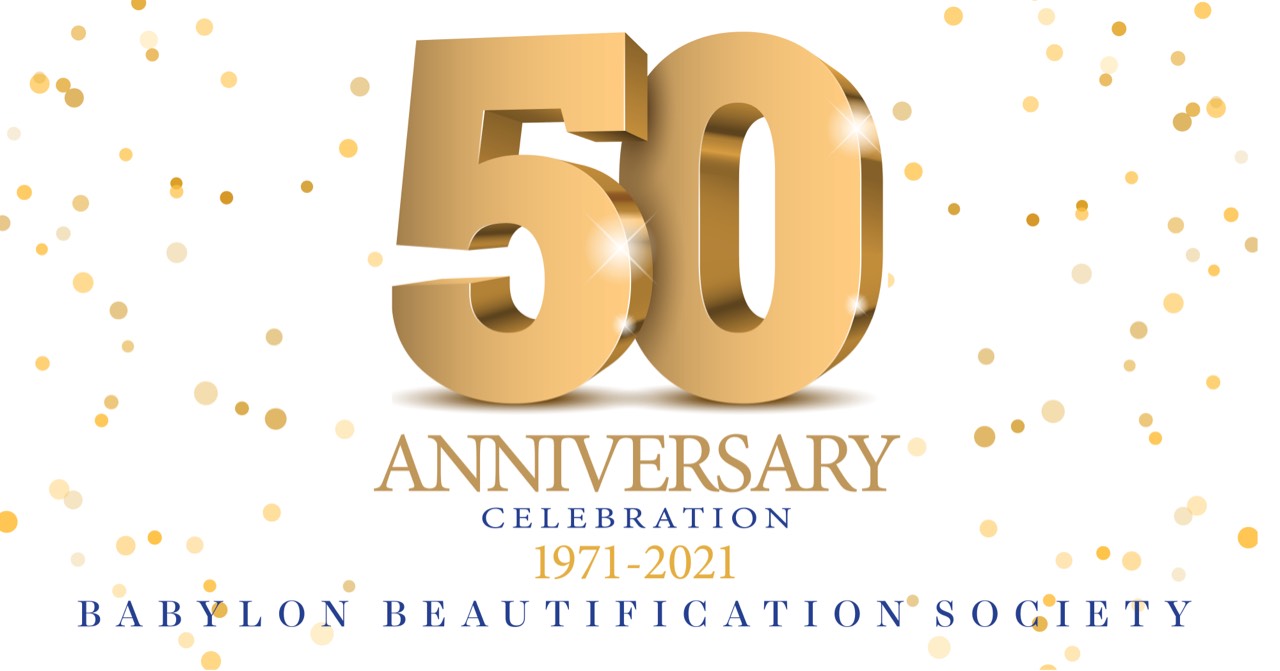 21 marks a significant milestone in village history; the Babylon Beautification Society ce
2021 marks a significant milestone in village history.
The Babylon Beautification Society celebrates its 50th Anniversary.
For the past 50 years, the Babylon Beautification Society's impact on our community has been visible everywhere.  Our most notable projects include the Gazebo, the Welcome Sign at the train station, and the Bayman Statue. We have also been adding flowers and trees to the community for decades and were instrumental in leading the recent recognition of the Village of Babylon as a Tree City USA by the Arbor Day Foundation.
We are one of the largest volunteer organizations in the village, and each year thousands of residents devote their time to our projects and initiatives.  The principles of volunteerism and community continue to be the foundation of our organization.
On Saturday, December 11, 2021, at Noon, we will mark this special occasion with a ceremony at the Village Gazebo.
Community leaders will recognize our contributions over the past half-century.  We will also acknowledge the contributions of Babylon Beautification Society's past presidents.
Saturday, December 11, 2021, at 12:00 pm   |   Village of Babylon Gazebo
Welcome
Frank Petruzzo, President, Babylon Beautification Society
Mayor Mary Adams, Village of Babylon
Community Remarks
Judy Skillen, President,  Babylon Village Historical & Preservation Society
Kelly Peckholdt, President, Babylon Village Chamber of Commerce
Proclamations
Legislator Kevin McCaffrey, Suffolk County
Supervisor Rich Shaffer, Town of Babylon
Senator Phil Boyle, New York State
Assemblymember Michael Durso, New York State
Recognition: Past Babylon Beautification Society Presidents
Wayne Horsley
Michelle Melfi
Robert Carley
Patricia Carley
Donna Consola
Babylon Beautification Society Executive Board
Frank Petruzzo, President
Kathleen Maloney, Vice President
Kevin Rutkowsky, Treasurer
Kristin Costigan, Director
Chris Genzmann, Director
Christina Reynolds, Director
21 marks a significant milestone in village history; the Babylon Beautification Society ce